SCHOOL MUSICAL
Please click here and then follow the link provided for more information about the St. Lawrence School Musical.

Online Lunch Ordering
Lunches will be ordered online this year. Please review the instructions carefully to be sure you meet all deadlines.

Creating A Safe Environment (CASE)
All volunteers, in diocesan organizations who work with children and vulnerable adults must follow these same guidelines. This would include all our parent volunteers.

FACTS Information
Please choose the appropriate link below.

NEWSFLASH signup
To signup for our school wide newsflash, please click here.

AR Book Finder
Click here to see if your book has an AR quiz.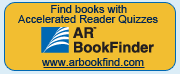 AR - HOME CONNECT
Check to see how your child is doing on AR quizzes!